Many of today's prospective car buyers may grow weary with the preponderance of featureless, cookie-cutter vehicles out there on the market. The frustration of such future car owners is a reason why the new 2021 Kia Seltos compact SUV is such a breath of fresh air. This vehicle ticks all the right boxes in the interior, exterior, performance, safety, and other areas. It also includes a wide variety of accessories and upgrades that can appeal to the city slicker or the weekend adventurer equally well. Drivers who are looking for a dynamic, fuel-efficient, and capable compact SUV need look no further than the new 2021 Kia Seltos for sale here at Danbury Kia.
2021 Kia Seltos in Danbury, Conn
2021 Kia Seltos Overview
Unlike most vehicles in its class, the new Kia Seltos performs well in all major areas. It has plenty of room for passengers with seating for five, but these are no normal seats. Front passengers get to enjoy the available heated seats while rear-seat passengers will reclining seatbacks that make it easy to get comfortable on long-distance travels.
On the exterior front, it comes with available extras such as 18-inch alloy wheels, fog lights, and a bevy of eye-catching colors. The new Kia Seltos is no slouch on the safety front either. It includes many passive and active safety systems, plus plenty of driver awareness tools. What's more, everyone gets to enjoy several intriguing trims.
2021 Kia Seltos Trims
Future Kia Seltos owners will be happy to hear about the bevy of available trim levels at our dealership near New Milford and Newtown. Each of these trims offers a smorgasbord of features that can satisfy the needs of both individual drivers and families. New trim levels include:
Kia Seltos LX - The entry-level trim of the 2021 Kia Seltos family includes plenty of useful technologies. An example of this prowess is the Android Auto and Apple CarPlay capability. With these features in its equipment portfolio, drivers can use their smartphone to connect directly with the infotainment system in the vehicle, providing access to hands-free calling, voice-to-text functionality, and many of your favorite apps.
Kia Seltos S - This trim level is an immediate eye-grabber whether during the day or the night. It has a distinctive front grille system with a built-in LED Bar Light that is both handsome and utilitarian. It also has LED brake lights as well as running lights, and these make it more visible and therefore safer for passengers and pedestrians alike on nighttime drives around Ridgefield and Carmel, NY.
Kia Seltos EX - With this trim level, 2021 Kia Seltos drivers and passengers can enjoy the strength and stability that come along with machined aluminum-alloy wheels. These 17-inch marvels work well with the torque vectoring transmission system with its locking capacity. This works during low-traction situations and helps drivers to get out of slippery situations on and off the roads around the greater Duchess County, NY.
Kia Seltos S Turbo - As its name would suggest, drivers and passengers of this trim level get an extra boost of power. It comes complete with a 1.6-liter 175-horsepower motor that also puts out close to 200 pound-feet of torque. This powertrain also comes with a 7-speed, quick-shifting transmission system that gets the vehicle off the line quickly.
Kia Seltos SX Turbo - Passengers and drivers of this trim level really get a taste of luxury. In addition to a powerful turbocharged motor, this vehicle also offers the comfort that comes along with proprietary Stop-and-go Cruise Control system. This feature makes long trips easier by taking over many functions that were formerly the province of the driver alone. It also makes navigation easier with the available 10.5-inch touchscreen display.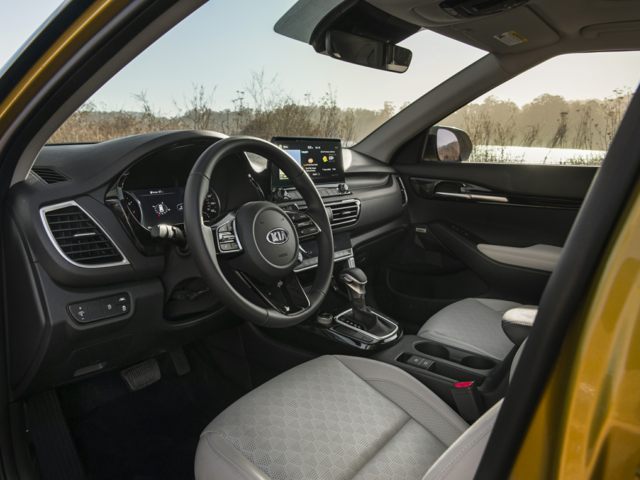 The 2021 Kia Seltos Interior
The new Kia Seltos has an interior that is welcoming, safe, and comforting. It is also quite technologically adept and comes with many features that make it a lot easier for drivers and passengers alike. For example, the Kia Seltos comes well-stocked with a variety of charging ports and systems. Passengers can use the conveniently located USB-charging ports as well as a wireless charging station.
Bluetooth compatibility is also available and makes connectivity a snap. Drivers control Bluetooth, audio, and many other important functions with their voices or from the steering wheel-mounted controls. The available Bose sound system rounds things out with its multi-range provision of high-quality sounds.
Interested in taking the new Kia Seltos for a test drive?
Feel free to make the short trip over from nearby Patterson, NY to our showroom here at Danbury Kia to schedule some drive time with the bold new 2021 Kia Seltos today.
Make an Inquiry